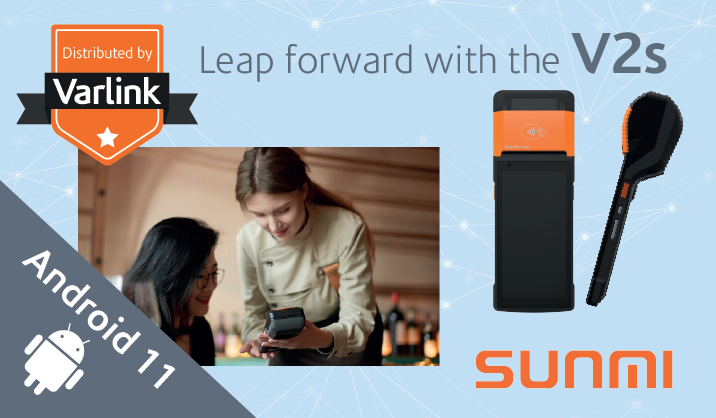 Leap forward with the SUNMI V2s
Introducing to you, SUNMI's first smart terminal equipped with Android 11.
Queuing management, ordering, online order taking, checkout or loyalty management, V2s is the device which can support them all.
What benefits can you expect?
In comparison to the previous generation, the V2s offers increases of 20% for running speeds and 15% for application start-up meaning users can switch between applications quickly and smoothly, enabling efficient operations. What's more, Android 11 also supports tighter user data security and privacy, so business information is kept safe.
With the SUNMI V2s, users can expect double the memory capacity of its predecessor and a battery life that lasts up to 36% longer, meaning downtime is considerably reduced and devices can comfortably perform with ease throughout an entire shift.
SUNMI's newest handheld terminal comes with the benefit of dual printing with ticket and label printing options available. The V2s comes with a new movable fixator has been designed to enhance the paper roll to make it more stable.
Users can also now benefit from a professional 2D scan engine which allows the device to read 1D/2D barcodes even when scratched, folded or stained.
Demanding environments? No problem.
The V2s comes with strengthened protection against water oil and dirt. The rubber seals added to the edges of the paper bin, charging port, and earphone port help prevent damages. The seals help protect the device for continuous and stable operations.
In busy environments, accidents can happen. Users are in safe hands with the V2s though, with its upgraded anti-drop protection. The V2s comes with reinforced protection to resist a 1.2m drop, upgraded from its predecessor's 1.0m drop specification.
See the V2s in action here.
For more information or to reserve your SUNMI V2s units, call a member of our EPoS Sales Team:
Declan Toland | 01904 717186 | declan.toland@varlink.co.uk
Mo Rahman | 01904 717184 | mo.rahman@varlink.co.uk