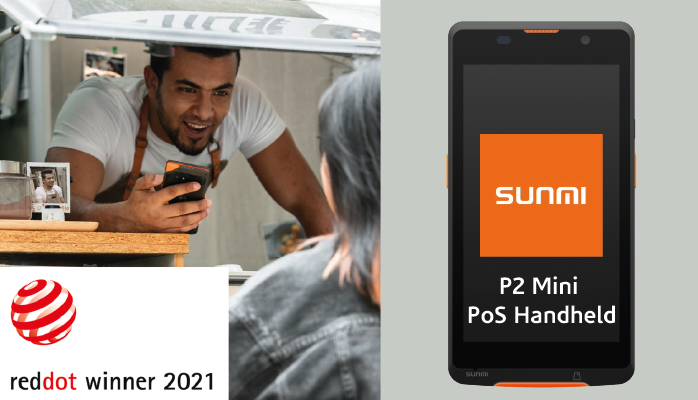 The reddot™ awarded SUNMI P2 Mini is now available at Varlink!
We're excited to share with you the launch of the SUNMI P2 Mini handheld PoS terminal, now available at Varlink. The P2 Mini truly reshapes the experience of mini PoS – It's no wonder this product has been awarded as a reddot™ winner for 2021.
Offering a slim but durable exterior and a 5" capacitive multi-touch screen, the P2 Mini has a tiny 15mm depth and a 1.2m drop specification making it an ultra-portable device that is easily operable with one hand.
The P2 Mini comes with a HD 5MP rear-facing camera as standard and for applications where dual cameras are required, we can offer a secondary 0.3MP front facing option.
Do your end users need the flexibility of enabling their customers to pay the way the want?
The P2 Mini offers much needed versatility and allows customer to pay via magnetic stripe card, IC card, NFC and QR code.
Users can feel confident that in demanding environments where they need to readily rely on technology to streamline operations, the P2 mini can certainly keep up. This device with its built-in quad-core 1.8GHz processor offers improved performance whilst consuming low power, taking the worry out of down time.
See the P2 mini in action here.
For more information or to reserve your SUNMI P2 Mini units, call a member of our EPoS Sales Team:
Declan Toland | 01904 717186 | declan.toland@varlink.co.uk
Mo Rahman | 01904 717184 | mo.rahman@varlink.co.uk
Tova Lill | 01904 717192 | tova.lill@varlink.co.uk